The Navy General Library Program (NGLP) manages the Navy's MWR Library Program, which includes ashore and afloat Libraries as well as the Navy MWR Digital Library.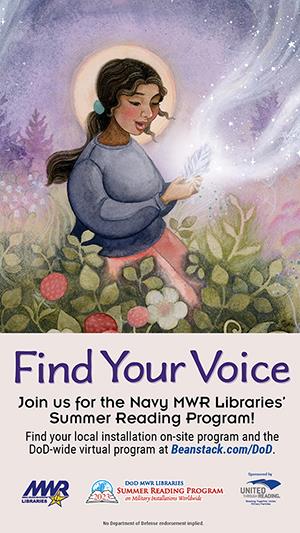 Find Your Voice with the 2023 DoD MWR Summer Reading Program!
This summer, we'll be exploring books, history, social sciences, and STEAM fields that empower readers of all ages to make their voices heard! Visit the
DoD Beanstack page
to find the Summer Reading Program nearest to you, then sign-up to log your reading time and earn prizes! Readers that are not located near a Library can also participate in the
DoD Virtual Summer Reading Program
. Our Libraries and Community Recreation Centers will be hosting special events all summer long that encourage patrons to read, learn, and speak up! Please contact
NGLP@navy.mil
if you have questions about participation, registration, or logging your time.
DoD MWR Libraries
DoD MWR Libraries (
DoDMWRLibraries.org
) is a joint service initiative designed to create a better digital library user experience for members of the U.S. military community. Here you will find a one-stop site for over 80 online resources, available 24/7. Some of our resources include:
•
Newspapers and Magazines