The Navy General Library Program (NGLP) manages the Navy's MWR Library Program, which includes ashore and afloat Libraries as well as the Navy MWR Digital Library.
DoD MWR Library Support:
2021 Summer Reading Challenge: Reading Colors Your World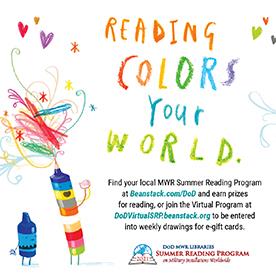 Join your installation Summer Reading Challenge or the DoD MWR Libraries Virtual Reading Challenge! All DoD Morale, Welfare and Recreation (MWR) customers of any age are encouraged to participate. Installation reading challenges include activities and incentives for reading. Look up your local reading challenge website at
https://www.beanstack.com/dod
.
The DoD Virtual reading challenge (
https://dodvirtualsrp.beanstack.org
) is from June 1 to August 31. Readers are automatically entered into the weekly gift card drawings when they log at least an hour of reading time. Read to win this summer!
No Navy endorsement implied.
Deployed Forces Support, managed by the Army General Library Program, includes providing compact, battery-powered audiobooks and monthly shipments of popular paperbacks to deployed units.
Navy MWR Digital Library
The
Navy MWR Digital Library
offers more than 25 online services, available 24/7 from any location with Internet access, for Navy personnel and their families, civilians, and retirees. Many services have an optional mobile app to make accessing services even easier. Online services include:
•
Journals, Magazines, & Newspapers
•
Vehicle & Engine Repair