Attention OverDrive & RBdigital Users
In preparation for upgrading the Navy MWR OverDrive site, accounts have moved to a new management system. Users must reset their password using the link on the OverDrive sign-in page. The first time you sign in, use your email as the password. The OverDrive site change is expected to be completed around the end of January.
RBdigital is transferring the book and audiobook collection to OverDrive on January 14. Readers with holds will lose the holds, but the full lending period will be honored for those with books currently borrowed. Magazines, Great Courses, Comics, and ArtistWorks will remain on the RBdigital platform.
The Navy General Library Program (NGLP) manages the Navy's MWR Library Program, which includes ashore and afloat Libraries as well as the Navy MWR Digital Library.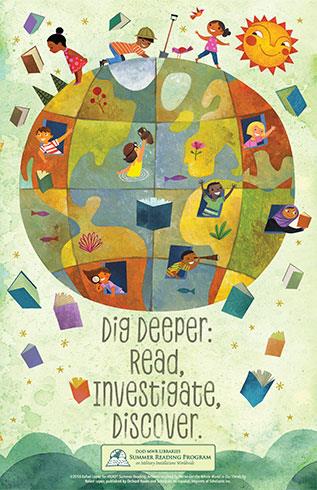 DoD MWR Library Support:
DoD Summer Reading Program
The 2020 DoD MWR Libraries Summer Reading Program invited participants to "Dig Deeper: Read, Investigate, Discover." The program was primarily held virtually, although many libraries were still able to have events that allowed for social distancing or provided take-home activity kits to encourage learning at home. Nearly 200 installations held reading programs, drawing over 43,000 readers to log over 38 million minutes – the equivalent of 72 years of reading time! Learn more about the Summer Reading Program at:
www.ila.org/dodsumread
.


Deployed Forces Support, managed by the Army General Library Program, includes providing compact, battery-powered audiobooks and monthly shipments of popular paperbacks to deployed units.
Navy MWR Digital Library
The
Navy MWR Digital Library
offers more than 25 online services, available 24/7 from any location with Internet access, for Navy personnel and their families, civilians, and retirees. Many services have an optional mobile app to make accessing services even easier. Online services include:
•
Journals, Magazines, & Newspapers
•
Vehicle & Engine Repair