The Navy General Library Program (NGLP) manages the Navy's MWR Library Program, which includes ashore and afloat Libraries as well as the Navy MWR Digital Library.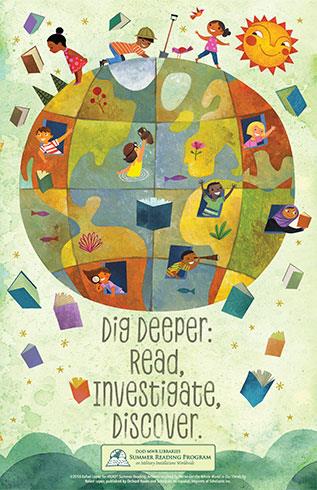 Summer Reading Challenge
Dig deeper this summer with the DoD-MWR Libraries' Summer Reading Program. All DoD Morale, Welfare and Recreation (MWR) customers of any age are encouraged to join the Summer Reading Challenge, June 1 - August 31, and earn rewards. Sign up and log your reading time at dodvirtualsrp.beanstack.org or on the Beanstack app.
Genealogy 101: Find Your Family
A virtual class, "Genealogy 101: Find Your Family," will be held on August 31 at 8:30 CT / 3:30 CET. Learn how to get started in your family history search, including using the MWR Digital Library Ancestry and Fold3 databases. Registration is not required for the class. Join the class here:
(ffr-learn.adobeconnect.com/library/). For more information, email NGLP@navy.mil.
Navy MWR Digital Library
The
Navy MWR Digital Library
offers more than 25 online services, available 24/7 from any location with Internet access, for Navy personnel and their families, civilians, and retirees. Many services have an optional mobile app to make accessing services even easier. Online services include:
•
Journals, Magazines, & Newspapers
•
Vehicle & Engine Repair