Navy Entertainment
Navy Entertainment provides quality, live entertainment for Sailors stationed overseas and on deployed ships at sea; assists CONUS locations with talent referral and production of shows; and partners with United Service Organizations (USO) and Armed Forces Entertainment (AFE) when possible, to bring the largest number of shows to the most locations.
Navy Entertainment Book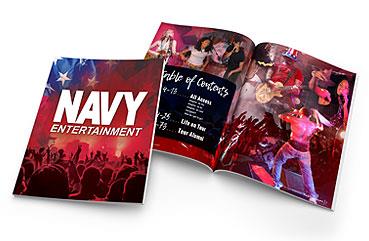 Navy Entertainment offers an experience that artists can't get in the commercial touring sector. Let us take you there.
Download the book here.
What We Do


Navy Entertainment tours make a positive impact on the morale of our troops. In locations where families are stationed overseas, the program also ensures that our military families receive top-quality entertainment.
Alumni Artists
3 Doors Down
30 Seconds to Mars
3OH!3

August 2015

A Great Big World

August 2014

Alan Jackson

June & July 2012

Anberlin

September 2014

Andy Grammer
Augustana

May & Oct 2010

Avatar
B.o.B

January 2015

Better Than Ezra

June 2012

Blessid Union of Souls
Blink-182
Blue October

July 2010

Bottoms Up

July & August 2010

Bowling For Soup

February & March 2012

Boys II Men

February 2013

Brad Paisley

November 2012

Brantley Gilbert

December 2012

Brothers Osborne
Cage The Elephant
Carbon Leaf

May 2013

Cartel

June & July 2012

Cheap Trick

November 2011

Chevelle

July & August 2014

Chicago

February 2010

Chris Cagle

May 2012

Chris Young

September 2012

Colt Ford

March 2012

Darius Rucker

November 2014

Daughtry

February 2010

Dave Matthews Tribute

July 2014

David Cook

June & July 2014

Delta Rae

July & August 2014

Demi Lavato

March 2015

Dennis "Belding" Haskins

July 2011

Dierks Bentley

March 2012

Dirty Sock Funtime Band

November 2011

Dispatch

June & July 2011

DJ Pauly D

March 2011

Drake White

February 2019

Drowning Pool

May 2009

Easton Corbin
Eric Hutchinson

June & July 2013

Flo Rida
Fuel

October 2012

Gallagher

February 2011

Gloriana

November 2010

Godsmack

September 2011

Good Charlotte

December 2011

Green River Ordinance

February 2013

Guy Fieri
Gym Class Heroes

August 2012

Hanson

July & August 2014

Hinder
Honey County

December 2018

Hot Chelle Rae

July & August 2014

Imagination Movers

April 2013

Jack's Mannequin

March 2012

Jason Aldean

March & April 2011

Jason Michael Carroll

May 2014

Jessica Simpson
Joe Nichols

September 2012

John Taglieri

April 2015

Josh Turner
Kellie Pickler

March 2012

Kelly Bell Band

December & January 2015

Kelsea Ballerini
Kier

January 2019

Kris Allen

October 2010

Lady Antebellum

September 2012

Laura Bell Bundy

November 2012

Lee Brice

January 2015

Lifehouse

July & August 2014

Light It Up-Glow

December & January 2015

LIT

June & July 2011

LL Cool J

June 2012

Lonestar

April 2010

Los Lobos

May 2010

Ludacris

September 2011

Macy Gray

February 2011

Maddie & Tae
Major League Eating

August 2014

Matt Nathanson

August 2012

Michelle Branch

July 2010

Miranda Lambert

September 2012

Mockingbird Sun

December 2013

Murder Mystery Experience

May 2018

Nelly

April 2011

NFL Cheerleaders & Players
Nickleback

August 2010

OAR

July 2014

One Republic

May 2012

Pat McGee

April 2013

Paulina Rubio

October 2010

Plain White T's

April & May 2015

Rascal Flatts

April 2012

Red Jumpsuit Apparatus

May 2010

REO Speedwagon

September 2012

Safety Suit

July 2011

Scott Stapp - Voice of Creed
Shinedown

April 2010

Skillet

February 2011

Smash Mouth

October & November 2008

Snoop Dog

December & January 2011

Street Drum Corps

September & October 2014

Swagg Team
Switchfoot

2015

T-Pain

April 2015

Taking Back Sunday

June 2015

Terri Clark

June & July 2012

The Band Perry

July 2012

The Crisis

October 2012

The Verve Pipe

June & July 2011

The Wallflowers

May 2009

Third Eye Blind

May 2013

Thompson Square

March 2015

Tim McGraw

September 2014

Train

April 2015

Tyler Farr

December 2014

Tyler Florence
UFC Fighters
Uncle Kracker

September & October 2011

Vertical Horizon

February 2014

Vince Gill

July 2012

Wicked Wisdom
Will Hoge

October 2014

Xperimento

October 2013

Yung Joc

September 2011