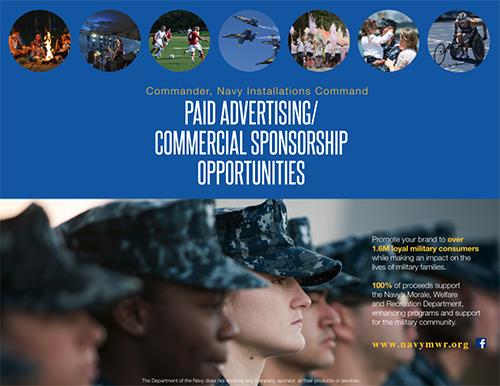 Navy Morale, Welfare and Recreation (MWR) online advertising opportunities are available!
Running ads on MWR websites is an excellent way to reach military audiences influencing them toward your brand. Our websites are a top information resource for Sailors and their families. We can help you reach more than 320,000 active duty Sailors; more than 390,000 Navy family members; 105,000 Navy Reservists; more than 266,000 Navy Department civilian employees; more than 740,000 Navy retirees, and countless family members and Navy supporters worldwide. Our newly launched 75 websites garner more than 2 million impressions per month. Connect with Navy MWR to secure worldwide online advertising, or to target websites in a specific region or community. Download our sponsorship package here. To view the sponsorship package digitally click here. For more information email navymwrsponsor.fct@navy.mil or call (202) 433-4111.
Navy Wounded Warrior Commercial Sponsorship Opportunity
The U.S. Navy Wounded Warrior Commercial Sponsorship Opportunity The Navy Wounded Warrior program is currently seeking commercial sponsors for Team Navy adaptive sports training and participation during the 2020 Department of Defense Warrior Games held in San Antonio next summer. Multi-level partnerships include exposure through a multifaceted marketing campaign using digital, print, social media, promotional items, official gear, and website. Choose to make an impact on the lives of our wounded warriors. For more information e-mail
navymwrsponsor.fct@navy.mil
or call (202) 433-4111.