Navy Motion Picture Service
The Navy Motion Picture Service provides first-run movies at great prices for the entire family. NMPS also provides movies to Liberty centers and support for deployed forces.
The Mule
For language throughout and brief sexuality/nudity.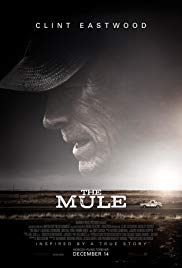 Release Date:

12/14/2018

Running Time:

106 mins.

Genre:

Crime, Drama, Mystery

Studio:

Warner Brothers

Ndvd Ship:

02/14/2019

Ndvd Expire:

12/28/2022
Cast:

Clint Eastwood
Bradley Cooper
Taissa Farmiga
Michael Pea
Alison Eastwood
Synopsis
A 90-year-old horticulturist and WWII veteran is caught transporting $3 million worth of cocaine through Michigan for a Mexican drug cartel.